Free courses and events for parents in the Cabra and Finglas area– Contact Paddy for more info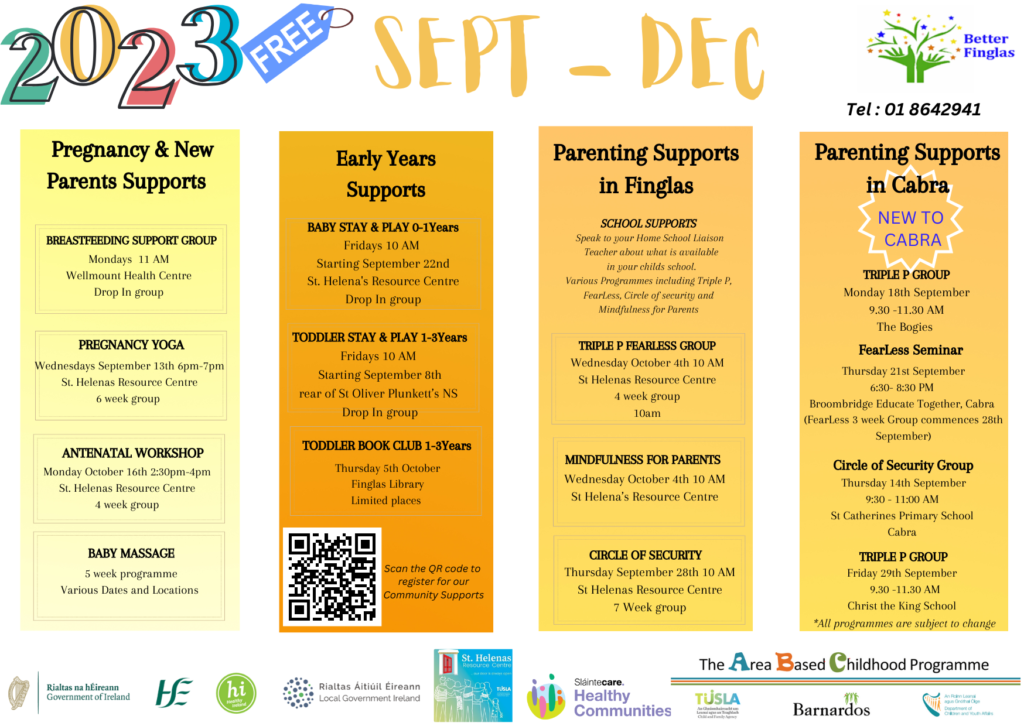 Attendance – The 100 Club Explained!
Every School Day Counts at Broombridge and we firmly believe that every child who can be at school should be at school. Similarly to other schools across the country, our attendance figures are much lower than pre-pandemic levels. This is largely due to the important messages from health authorities regarding contagious symptoms and we are truly grateful to our parents and carers for following that advice where necessary. We also want to recognise those students who have exemplary attendance, coming to school every day they can and making the most of their time at school. To acknowledge this we have set up the 100 Club, where students who are present for 100% of a time period (e.g. a specific month, a term or a half term) will be given an attendance certificate and invited to a small event at the end of the year. This system will ensure that students who do the right thing and stay at home when they are sick, but otherwise attend school every day will have their amazing attendance acknowledged throughout the year.
Please check out the amazing programmes on offer from Better Finglas from January to March!
Upcoming Events – 10th November 2022
** FEARLESS **
What is it?
A 3-week programme to help manage anxiety in 6-14 year olds
Course can be attended in person or online

In person dates are November 16th / 23rd / 30th @ The Bogies
Registration link is https://forms.office.com/r/LKtJaMuyjs

Online Dates are November 15th / 22nd / 29th on Zoom 6.30 – 8.30
Registration link https://forms.office.com/r/trJTeU7CCA

** Walk on Wednesdays **

A walking group for Broombridge Parents with Paddy on Wednesday Mornings – Meet outside Dana's office @ 8:40 starting Wednesday 16th November, Tea / Coffee & Great Craic provided!!!

For further information on any of these events contact Paddy on 083 152 3759 or homeschoolbbcm@gmail.com

Hi All, Paddy here Your newly appointed Home School Liaison Co-ordinator (Shared between Broombridge ETNS and Coláiste Mhuire Secondary School) My e-mail is homeschoolbbcm@gmail.com, please give me a shout if you need any assistance with school related matters, especially support for timekeeping and attendance.